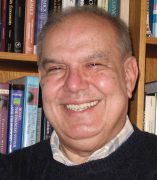 Ali T Akarca
Professor Emeritus
Economics
About
Major Interests:
Macroeconomics, Economy and Politics of Turkey, Energy Economics, Time Series Analysis and Forecasting.
Selected Publications
"Single Party Governments as a Cause and Coalitions as a Consequence of Coups in Turkey," in Aysan, et. al. (eds.) Turkish Economy: Between Middle Income Trap and High Income Status, Cham: Palgrave Macmillan, 2018, pp. 59-100.
"Modeling Political Performance of Islamist and Islamist-rooted Parties in Turkey," Middle East Development Journal 7 (1), 2015, pp. 49-69.
"Impact of Internal Migration on Political Participation in Turkey," (with Aysit Tansel), IZA Journal of Migration 4 (1), 2015, pp.1-14.
"Persistence in Regional Voting Patterns in Turkey During a Period of Major Political Realignment," (with Cem Başlevent), European Urban and Regional Studies 18 (2), 2011, pp. 184-202.
"Social and Economic Determinants of Turkish Voter Choice in the 1995 Parliamentary Election," (with Aysit Tansel), Electoral Studies 26 (3), 2007, pp. 633-647.
"Economic Performance and Political Outcomes: An Analysis of the Turkish Parliamentary and Local Election Results Between 1950 and 2004," (with Aysit Tansel), Public Choice129 (1-2), 2006, pp. 77-105.
"On the Relationship between Energy and GNP: A Reexamination," (with Thomas V. Long), Journal of Energy and Development 5 (2), 1980, pp. 326-331.
"Energy and Employment: A Time Series Analysis of the Causal Relationship" (with Thomas V. Long), Resource and Energy Economics 2 (2-3), 1979, pp. 151-162.
Notable Honors
1993 and 1994, Finalist, Silver Circle Award, University of Illinois at Chicago
1994, Award for travel to Uzbekistan, MUCIA, Inc.
Education
MS University of Wisconsin-Madison, 1972
Licensures and Certifications
Certificate of Recognition, The John Nuveen Center for International Affairs, 1997.
Professional Memberships
Research Associate, the Committee on Public Policy Studies, University of Chicago, 1978-1980.
Fellow, O.E.C.D., 1969-1971 and 1972-1975; Fellow, Ford Foundation, 1971-1972.
Selected Presentations
Keynote speaker at the following meetings:
Keynote or invited speaker at international conferences held at Anadolu University, Eskişehir, Turkey (2011, 2013, 2015 and 2017)
City University of New York, New York, USA (2013)
Nicolaus Copernicus University, Torun, Poland (2011)
Pedro Barrie de la Maza Foundation , A Coruña, Spain (2010)
University of Piraeus, Piraeus, Greece (2010)
Boğaziçi University, Istanbul, Turkey (2006).
Honorariums for papers presented at Economic Research Forum meetings held at:
Al-Sharjah, United Arab Emirates, 2002;
Marrakesh, Morocco, 2003;
Cairo, Egypt, 2005;
Kuwait City, Kuwait, 2006;
Cairo, Egypt, 2007.
Research Currently in Progress
Determinants of election outcomes, and of economic performances of governments
Economic and political consequences of internal migration