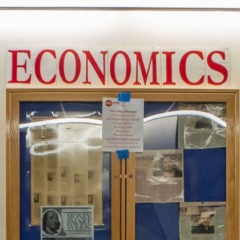 The Department of Economics offers undergraduate (BA), master's (MA in Economics and MA in Applied Economics) and doctoral (Ph.D.) programs in economics. We are home to roughly 300 undergraduate students and 60 graduate students, and our courses are open to all UIC students regardless of the college in which they are enrolled.
Boost your earning potential with Economics

MA in Applied Economics - GRE optional for 2023

Admission to the MA in Applied Economics will not require GRE scores for the current application cycle. This accelerated one-year program prepares students for a Ph.D. program in economics or a career that requires rigorous training in applied economic analysis and quantitative methods. Neither extensive mathematics preparation nor an undergraduate degree in economics is required for admission.

Spring 2023 - Econ 390 Elective

Undergraduate students are invited to enroll in a spring 2023 special topics elective–"Cross-Border Cooperation During COVID-19 and Russian-Ukrainian War" taught by Prof. Tamara Kachala. The course is Econ 390 (CRN 46868) and will meet Tuesday/Thursday 2:00-3:15pm.

New Course - Econ 475

The Economics Department now offers ECON 475, Urban Economics and Public Policy, available to both undergraduate and graduate students.