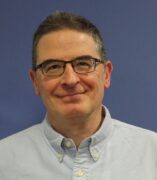 George Karras, PhD
Professor
Economics
Contact
Address:
601 S Morgan St.
Office Phone:
Email:
Related Sites:
Selected Publications
Business-Cycle Synchronization in the EMU.@ (with Davide Furceri), Applied Economics, Vol.40, No.12, June 2008, 1491-1501.
How Homogenizing Are Monetary Unions? Evidence from the U.S. States.@ North American Journal of Economics and Finance, Vol.14, No.3, December 2003, 381-397.
Openness and the Effects of Monetary Policy,@ Journal of International Money and Finance, Vol.18, No.1, February 1999, 13-26.
Are the Output Effects of Monetary Policy Asymmetric? Evidence from a Sample of European Countries,@ Oxford Bulletin of Economics and Statistics, Vol.58, No.2, May 1996, 267-278.
Convergence Revisited,@ (with Paul Evans), Journal of Monetary Economics, Vol.37, No.2, April 1996, 249-265.
Sources of Business Cycles in Europe: 1960-1988. Evidence from France, Germany, and the United Kingdom,@ European Economic Review, Vol.38, No.9, December 1994, 1763-1778.
Notable Honors
1999, Alumni Award for Excellence in Teaching, CBA
2000, Teaching Recognition Program Award, Council for Excellence Teaching&Learning
2004, Favorite Professor Award, MBA
Education
PhD, Ohio State University, 1990
Professional Memberships
Professor of Economics, Athens University of Economics and Business
Who's Who in Economics, Edward Elgar Publishing, 2003
Associate Editor, International Economic Journal (areas: Monetary Economics, Macroeconomics, International Finance)
Member, Advisory Board, Applied Econometrics and International Development
Research Currently in Progress
Monetary Integration and Dollarization, The Macroeconomics of Private and Official Financial Flows, Economic Growth