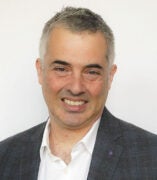 Darren Lubotsky, PhD
Director of Graduate Studies; Associate Professor
Economics
Contact
Address:
601 S Morgan St.
Office Phone:
Email:
CV Download:
Related Sites:
About
Fields of interest: Labor Economics, Public Finance, Health Care, Applied Econometrics
Selected Publications
Robert Kaestner and Darren Lubotsky, "Health Insurance and Income Inequality," Journal of Economic Perspectives, Volume 30, Number 2 (Spring), 2016, pp. 53-78.
Darren Lubotsky and Craig Olson, "Premium Copayments and the Trade-off between Wages and Employer-Provided Health Insurance," Journal of Health Economics, Volume 44 (December), 2015, Pages 63-79.
Darren Lubotsky, "The Effect of Changes in the U.S. Wage Structure on Recent Immigrants' Earnings," Review of Economics and Statistics, Volume 93, Number 1 (February), 2011, pp. 59–71.
Todd Elder and Darren Lubotsky, "Kindergarten Entrance Age and Children's Achievement: Impacts of State Policies, Family Background, and Peers," Journal of Human Resources, Volume 44, Number 3 (Summer), 2009, pp. 641-683.
Darren Lubotsky, "Chutes or Ladders? A Longitudinal Analysis of Immigrant Earnings," Journal of Political Economy, Volume 115, Number 5 (October), 2007, pp. 820-867.
Anne Case, Darren Lubotsky, and Christina Paxson, "Economic Status and Health in Childhood: The Origins of the Gradient," American Economic Review, Volume 92, Number 5 (December), 2002, pp. 1308-1334.
Education
PhD, University of California at Berkeley, 2000
Professional Memberships
Research Associate, National Bureau of Economic Research
External Research Fellow, Center for Research and Analysis of Migration, University College London
Research Currently in Progress
Immmigration to the United States, employer provided health insurance, public-sector pay and benefits