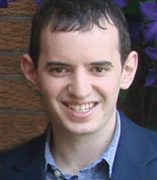 Ben Ost, PhD
Associate Professor
Economics
Contact
Address:
601 S Morgan St.
Office Phone:
Email:
CV Download:
Related Sites:
Selected Publications
"The Role of Families in Student Sorting to Teachers" (Forthcoming), Journal of Human Resources (with Javaeria Qureshi)
"Academic Probation, Student Performance and Strategic Behavior" (Forthcoming), Economics Inquiry (with Marcus Casey, Jeffrey Cline, and Javaeria Qureshi)
"The Returns to College for Marginal Students: Regression Discontinuity Evidence from University Dismissal Policies" (Forthcoming), Journal of Labor Economics (with Weixiang Pan and Doug Webber)
"Comparing standard deviation effects across contexts" Education Economics, 2017, 25(3), 251-265. (with Anuj Gangopadhyaya and Jeff Schiman)
"How do Teachers Improve? The Relative Importance of General and Specific Human Capital", American Economic Journal: Applied Economics, 2014, 6(2): 127-151.
Education
PhD, Cornell University, 2011
Research Currently in Progress
Economics of Education, Labor Economics, Applied Econmetrics